My Guitar Songbook
About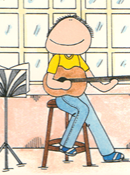 Welcome to My Guitar Songbook - the place where I store my collection of guitar songs, licks, favorite websites, online lesson links and other guitar related stuff.
Navigate the site using the above 'Menu', and 'Search field' to help find specific content fast and easy. Tap the '

' icon to preview a Song. Click a 'Title' to view Song Details. Select an 'Artist' to display all their compositions or choose a 'Genre' to show songs included in that category.
The Songs and Licks have been transcribed from old handwritten notes collected and compiled over the years or gathered from talented online teachers. The songs are broken down into their various parts (Timing, Intro, Verse, Chorus etc.). The Tab and Notation files are my own work and represent my interpretation of the songs. Tab files with references to any artist are not meant to be actual transcriptions of copyrighted material. The audio files, included for reference, are gathered from my personal music library or extracted from websites offering free guitar lessons. A pdf link is also available to download or print the compositions.
For superb lessons, original videos and tabs etc. be sure to check out the many websites and Resources mentioned throughout this site.
For more information see About Us & Disclaimer.
Recently Added Songs
Recently Added Licks